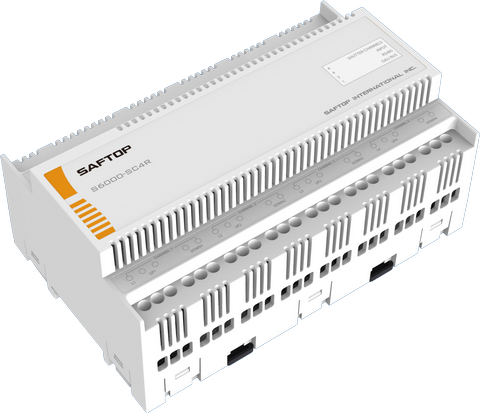 S6000-SC4R is used to control electric curtains. It can control 4 groups of independent curtains (blinds, roller blinds, ceiling curtains and power windows, etc.), and auxiliary input can add additional functions, such as opening or closing the curtains under certain circumstances.
2 sets of completely independent industrial-grade CAN communication BUS with anti-lightning, anti-static and anti-electromagnetic interference protection, and the node will be automatically shut down when the failure occurs. When one group of communication fails, it can automatically switch to another group for communication to ensure the safety and reliability of the system.
It can be arbitrarily linked with the controller of the S6000 system without server support.
Parameter Table
| | |
| --- | --- |
| Model | S6000-SC4R |
| Size | 144 x 90 x 63.5 mm |
| Primary communication BUS | 2 groups of CAN industrial BUS |
| Secondary communication BUS | 2 groups of 485 BUS, 1 group of DALI, 1 group of EXP BUS |
| Input port | 4 programmable auxiliary dry contact inputs |
| Output port | Supports 4 circuits of 220V/10A (resistive) load |
| Output contact | 4 circuits of 10A/220V rated switch load |
| Working environment | -20~60℃,0~90%RH |
| Storage environment | -40~85℃,0~90%RH |
Article number:8801-00000010
Dimensions