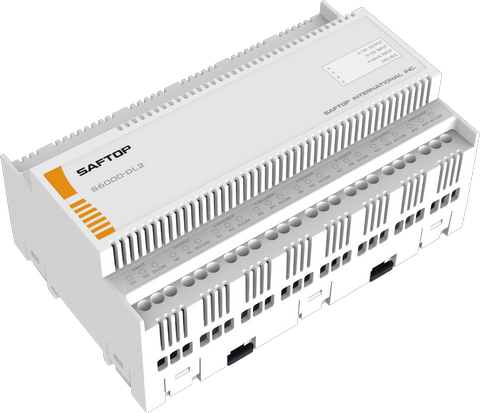 S6000-DL2 is used for the switch and dimming control of the lighting equipment on the DALI BUS.

S6000-DL2 is equipped with 2 groups of CAN communication BUS, adopting anti-lightning, anti-static and anti-electromagnetic interference protection design. When one group of bus communication fails, it can automatically switch to another group for communication to ensure the safety and reliability of the system.
S6000-DL2 provides two sets of DALI BUS interfaces. Each group of BUS supports 64 DALI devices with addresses (such as various digital dimmable ballasts, human sensors, illuminance sensors, etc.), and the number of switch panel couplers without addresses is not limited. Up to 128 circuits of dimming can be controlled.
It can be arbitrarily linked with the controller of the S6000 system without server support.
Parameter Table
| | |
| --- | --- |
| Model | S6000-DL2 |
| Size | 144 x 90 x 63.5 mm |
| Primary communication BUS | 2 groups of CAN industrial BUS |
| Secondary communication BUS | 2 groups of 485 BUS, 2 groups of DALI, 1 group of EXP BUS |
| Input port | 4 groups of 0-10V, 4 groups of 4-20mA |
| Output port | 1 set of 5A/30VDC switch output |
| Installation method | DIN-Rail Mounting |
| Working environment | -20~60℃,0~90%RH |
| Storage environment | -40~85℃,0~90%RH |
Article number:8801-00000008
Dimensions