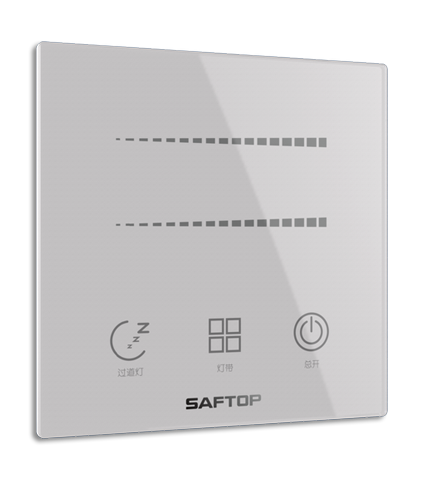 The S6000-DLCK series smart switch panel is used to control all lighting, curtains and other equipment in the lighting system.
Running on DALI BUS, it supports standard DALI protocol and eDali, dDali extension protocol.
Simple function, touch control, full touch backlit window, beautiful appearance.
The light, light group and scene relationship corresponding to the switch and the dimming board can be freely configured through the software.
Standard 86 box installation, industrial-grade structure and installation method.
Parameter Table
| | |
| --- | --- |
| Model | S6000-DLCK series |
| Size | 87 x 87 x 5 mm(Higher than wall thickness) |
| Communication protocol | DALI,dDALI, eDALI |
| Communication distance | Up to 300 meters (using 2×1.5mm²) |
| Controlled object | 64 addresses; 16 light groups; 16 scenes; all (broadcast) |
| Backlight sensing | When the hand is close to <=20mm, the LED backlight will be slightly bright indicator (operation indicator in the evening or when the indoor light is dark) |
| Button type | Capacitive button |
| Key setting | Operation function can be programmed on site |
| Voice prompt | Built-in buzzer |
| Installation method | Standard 86 box installation |
| Working environment | -20 ~ 55℃,0 ~ 90%RH |
| Storage environment | -40 ~ 85℃,0 ~ 90%RH |
Article number
| | | | | |
| --- | --- | --- | --- | --- |
| Product model | Number of keys | Switch control, brightness dimming | Color temperature adjustment | Article number |
| S6000-DLCK-4T/K | 4 | ● | – | 8806-00000002 |
| S6000-DLCK-4T/W | 4 | ● | – | 8806-00000016 |
| S6000-DLCK-4T/G | 4 | ● | – | 8806-00000021 |
| S6000-DLCK-6T/K | 6 | ● | – | 8806-00000003 |
| S6000-DLCK-6T/W | 6 | ● | – | 8806-00000017 |
| S6000-DLCK-6T/G | 6 | ● | – | 8806-00000022 |
| S6000-DLCK-3T2S/K | 3 buttons + 2 dimming bar | ● | ● | 8806-00000004 |
| S6000-DLCK-3T2S/W | 3 buttons + 2 dimming bar | ● | ● | 8806-00000018 |
| S6000-DLCK-3T2S/G | 3 buttons + 2 dimming bar | ● | ● | 8806-00000023 |
Description:
The letter at the end of the product model indicates the color of the product
K: black G: gold W: white
● Indicates that this feature is included
-Indicates that this feature is not included
Dimensions