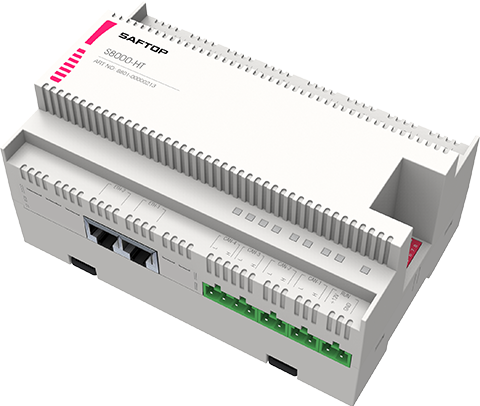 The S8000-HT communication service controller is used for networking of SAFTOP IoT series devices, managing the communication between the controller and the host computer on the CAN BUS, and managing data routing with other groups of BUS, such as Cross-BUS collaborative control and signal forwarding.
A, B (or 1, 2) 2 sets of BUS are used for local management, which can support up to 110 device nodes, and C and D (or 3, 4) 2 sets of BUS are used for Cross-BUS routing.
1. It supports the multi-master service mode on the Ethernet, allowing a variety of other different types of devices to actively connect to their own different service ports; users can also choose to support the ability to simultaneously access multiple other devices or servers on the Ethernet.
2. It supports the host computer to download the NLPU control strategy to realize the coordinated control of different BUS devices.
3. It supports the network features of CAN BUS multi-master communication and autonomous routing.
Parameter Table
| | |
| --- | --- |
| Model | S8000-HT |
| Size | 144 x 90 x 67 mm |
| CAN | 4 groups of CAN-BUS V2.0B standard |
| Serial port | 4 RS485 |
| Power input | 12VDC/24VDC |
| Installation method | DIN-Rail Mounting |
| Working environment | -20~60℃,0~90%RH |
| Storage environment | -40~85℃,0~90%RH |
Article number:8801-00000213
Dimensions