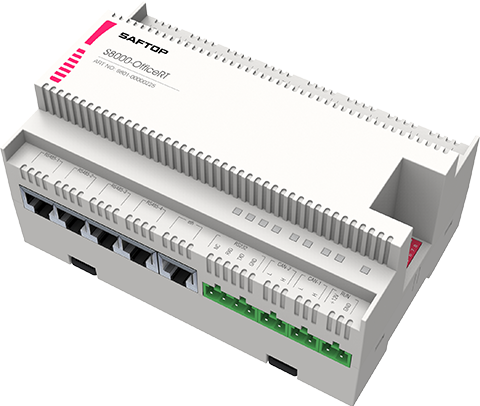 The S8000-OfficeRT IoT routing controller is used for smart control in small office spaces.
After collecting data from various equipment such as lighting, curtains, air conditioners, infrared sensors, alarm sensors, and air conditioners, it will analyze, control and process them, and relevant data will be connected to the Internet. It can realize local web policy configuration, status acquisition and control; Remote policy configuration, status acquisition and control can also be realized through WeChat, mobile phone APP, etc. What's more, it can be very flexible and convenient to control various lighting, curtains, air conditioning and other equipment, and it can remotely alarm the relevant alarm information of the local equipment.
The S8000-OfficeRT adopts DALI 2.0 BUS with power supply, RS485 MODBUS BUS, Gigabit adaptive Ethernet interface, dry contact input port, relay control output port, CAN BUS interface.
1. It supports the multi-master service mode on the Ethernet, allowing a variety of other different types of devices to actively connect to their own different service ports; users can also choose to support the ability to simultaneously access multiple other devices or servers on the Ethernet.
2. It supports the host computer to download the NLPU control strategy to realize the coordinated control of different BUS devices.
3. It supports the network features of CAN BUS multi-master communication and autonomous routing.
Parameter Table
| | |
| --- | --- |
| Model | S8000-OfficeRT |
| Size | 144 x 90 x 67 mm |
| CAN | 2 groups of CAN-BUS V2.0B standard |
| RS485 | 4 circuits of standard RS485, and each circuit supports 32 loads at most. |
| RS232 | 1 circuit |
| Power input | 12VDC\24VDC |
| Installation method | DIN-Rail Mounting |
| Working environment | -20~70℃,0~90%RH |
| Storage environment | -40~85℃,0~90%RH |
Article number:8801-00000225
Dimensions