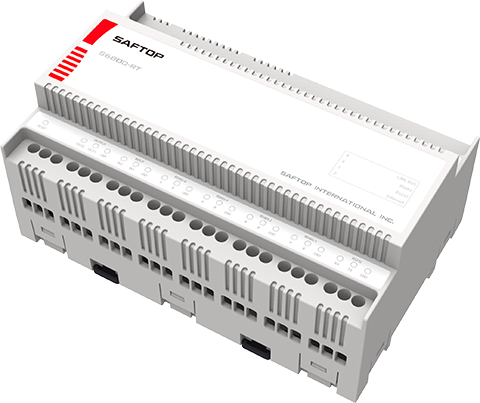 The S6800-RT is an IoT router that converts multiple protocols. The product communication protocol of different manufacturers can be converted into the same standard communication protocol by it, so that products of different manufacturers can exchange information and work together on the same platform. It can also dynamically load a third-party private protocol into the system, supporting secondary development and customization of the protocol. It is a new concept IoT routing controller with a wide range of adaptability.
S6800-RT IoT routing controller integrates 4 CAN, 4 RS485, 1 RS232, 3 dry contact inputs, 3 dry contact outputs and 2 sets of 10/100Mbps, 1000Mbps adaptive Ethernet ports.
The interface is rich and each interface has anti-surge, anti-static and anti-electromagnetic interference protection.
Parameter Table
| | |
| --- | --- |
| Model | S6800-RT |
| Size | 144 x 90 x 63.5mm |
| CAN | 4 sets of CAN-BUS V2.0B standard, the highest rate is 1Mbps |
| Serial port | 2 standard RS232 /RS485 |
| Power input | 12VDC\24VDC |
| Power consumption | 250mA@12VDC(max.) |
| Installation method | DIN-Rail Mounting |
| Working environment | -20~70℃,0~90%RH |
| Storage environment | -40~85℃,0~90%RH |
Article number(Out of stock):
| | |
| --- | --- |
| Product model | Article number |
| S6800-RT-ALL | 8801-00000119 |
| S6800-RT-MRTU | 8801-00000120 |
| S6800-RT-MTCP | 8801-00000121 |
| S6800-RT-BIP | 8801-00000122 |
| S6800-RT-BMSTP | 8801-00000123 |
| S6800-RT-JSON | 8801-00000124 |
| S6800-RT-ASCⅡ | 8801-00000125 |
Dimensions